Hello Ribbons Unlimited Fans !!!
It's Crystal here with a fun project for the 4th of July and all year-long .Today I made a Americana onesie and matching headband .Ribbons unlimited has beautiful ribbon and excellent quality at an awesome price ,go visit the store and take a look around .
Let get started , first I trace the onesie onto chipboard and then cut it out , this will go inside your shirt so the glue does not bleed thru
insert the chipboard into the shirt from the bottom
next I select my ribbon of choice and decide my layout before I glue down ,
I am using 3/8″ double ruffle in Red 
5/8″ Delight ribbon in Navy Blue
I cut 3 pcs at 4 1/2″ and 3 pcs at 3 " from double ruffle red , the Navy bow is  made with Delight ribbon
I am using Beacon Fabri-tac permanent adhesive
I added Martha Stewart white gold glitter glue to make faux stars on my Navy Blue
I add a line of glue to the back of the ribbon and adhere to the shirt
I decided to add glitter fireworks around the flag for some more sparkle

for my headband I layered
5/8″ Delight ribbon in Navy Blue ,  
I added some curly ostrich feathers in white , the base is a white with silver fleck stretch headband and added white felt to the back side to adhere to the headband
I think this is such a cute set and I hope it has inspired you to browse the Ribbons Unlimited Inc. store  and get some ribbon for your next project .
Thanks so much for stopping by , leave me some feed back if you loved this project , I love hearing from my scrappy computer friends who love getting crafty : )
Crystal Lopez – Design Team member for Ribbons Unlimited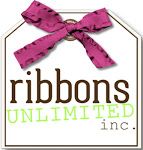 Crystal Lopez – Design Team member for Ribbons Unlimited